We know…we know. They're called "coverings," and they do cover your windows. But, that doesn't mean they have to block everything out. If you have an amazing view out of your windows that you don't want to cover, but the direct light, UV rays & heat are all getting to be too much, what can you do? We have our 5 Best Shades to share with you–you'll get the coverage you need, while having the ideal view of your landscape.
#1 Everyone's Favorite Sheers
The Silhouette collection has a dedicated following–it seems that once you've lived with these amazing shades, it can be hard to imagine anything else on your windows. The floating vanes appear to be invisible, as the adjust the view open, bringing in soft light, but cutting the glare. When you want a dynamic view of the outdoors, these are some of the best shades out there!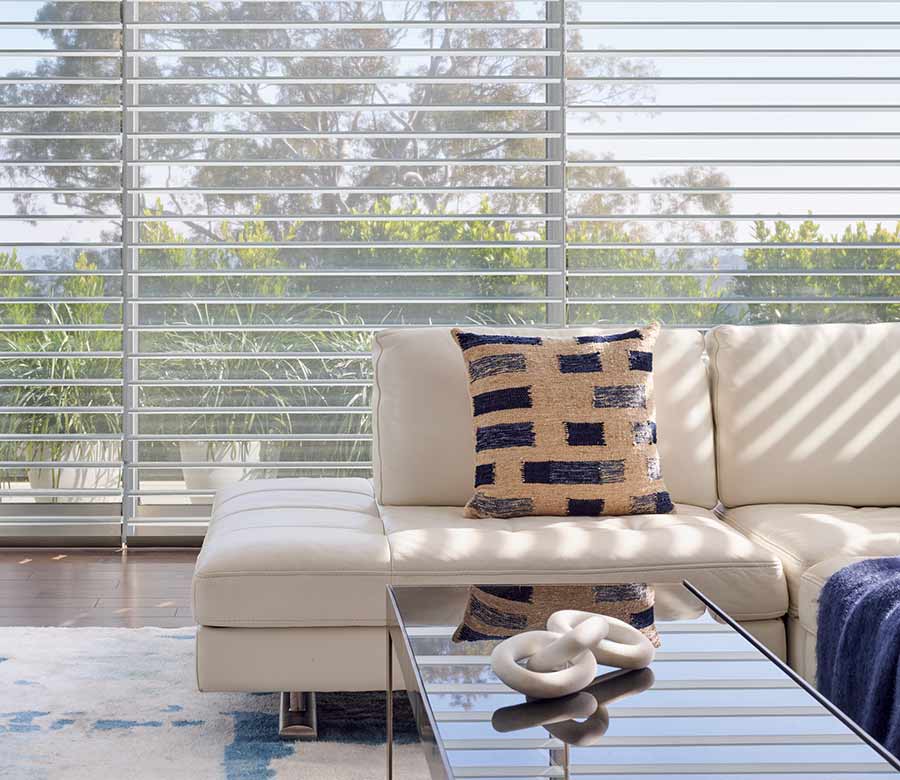 With the latest innovations, you can use Silhouette shades in a dual shade combination, for ultra sun blocking, or blissful room darkening. There's also the ClearView option, which sharpens the view with crisp clarity. And, the newest addition is Halo–a revolutionary adjustment which allows the vanes to rotate up toward the ceiling, as well as down toward the floor.
#2 Make a Dramatic Statement
Another popular choice that features sheer fabrics, the Pirouette collection is full of incredible style–and a wide range of light control! The fabric vanes of Pirouettes look similar to roman shades, as they lie closed against the window. But, when adjusted open, the vanes can fold in half–right in place–revealing a sheer backing, with an incredible view of the outdoors. Pirouettes also roll flat, up and out of the way, when you want the windows bare.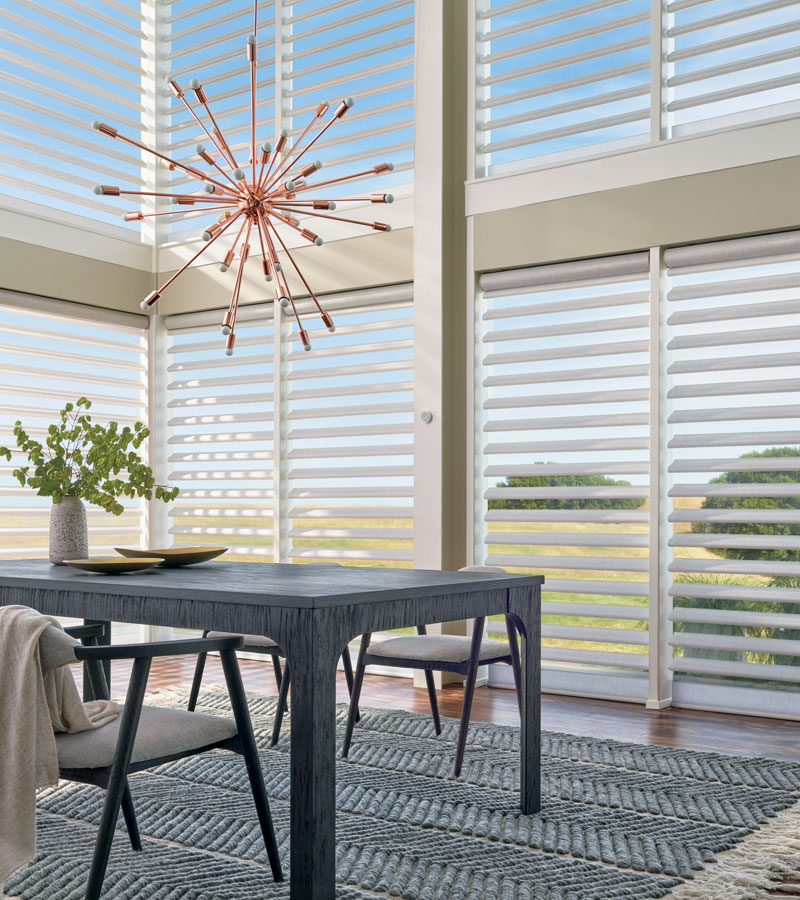 The versatility of Pirouettes means you can have the glowing light and views of sheer shades in one position and room darkening in another. It's like having two shades in one. This collection also has the option for ClearView, for a stunningly sharp view of the landscape.
#3 What About Sliders?
Sometimes your best home views aren't through windows, but doors. Sliding glass doors not only offer an easy way to get outside, but they show off a beautiful view and bring in tons of light. Maybe too much light at times. One of the ways you can enjoy the light and the view while adding levels of control is with Luminette Privacy Sheers.
These are the best shades when you want the material of sheer shades with the sliding adjustment to match the movement of your sliding doors. One of the most incredible benefits of these shades is almost a secret–and you'll miss it if you don't know about it! There are *almost* invisible vanes inside the folds. When you want to close off the view, the vanes rotate. It's as simple as that!
#4 Those Large Windows
The biggest windows in your home can show off the most amazing views. One of the most popular options for those large windows is our Designer Screen Shades collection. You choose the opacity so your view-through is customized, and the incoming light will be filtered for a pleasant atmosphere. Because they roll up out of the way, you can also enjoy bare windows when you choose.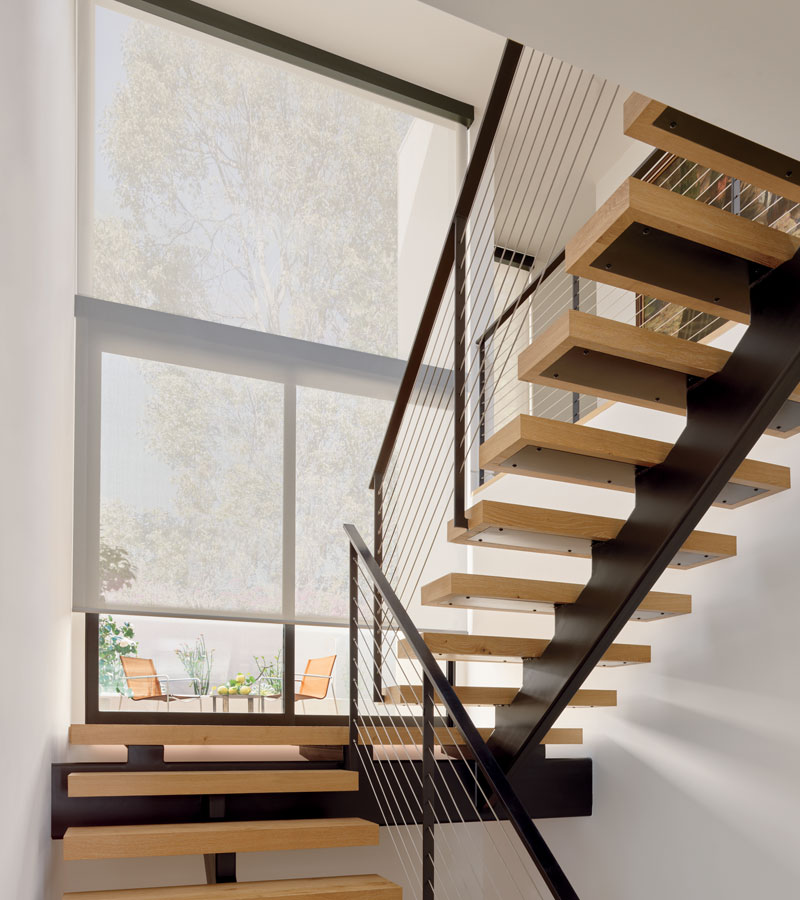 And, since those large windows are often out of reach, many homeowners love to pair screen shades with PowerView Automation, for instant, smart & convenient adjustments at the touch of a button or voice control.
#5 Lines or Shapes?
Patterns are a great way to highlight the design of your home, but did you know they can also enhance your view? Our Designer Banded Shades collection brings unique style with incredible function. Two layers of fabric are in place when the shade is lowered. To increase or decrese the view-through, or entering light, the fabrics rotate slightly. This causes the shapes to shift for a stunning design feature while delivering the solutions you need.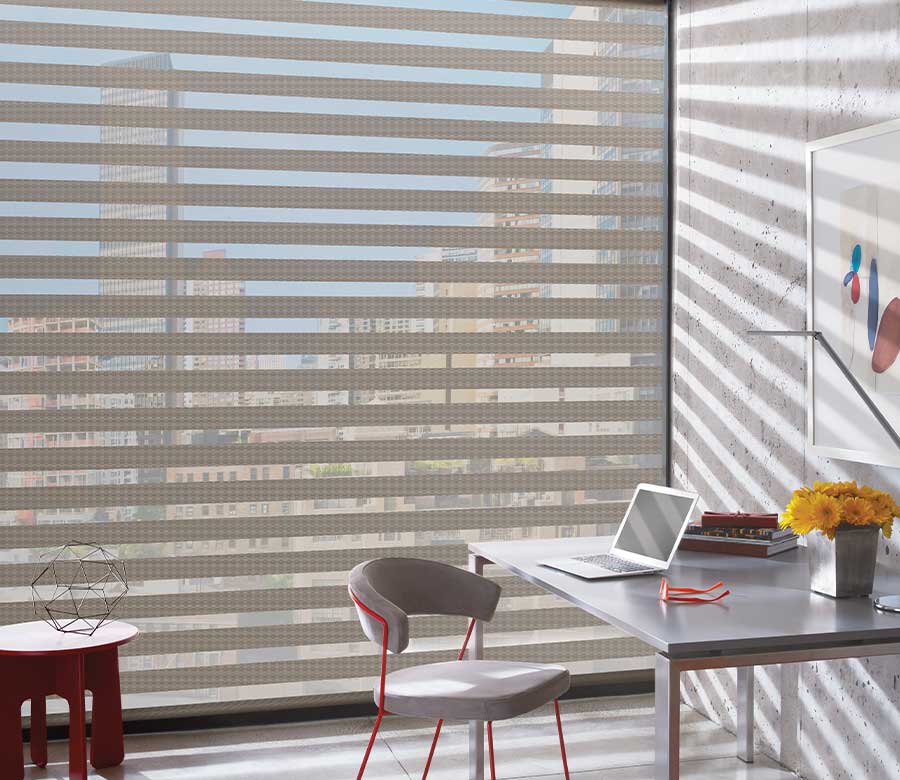 Our 5 Best Shades…Which One Does Your View Deserve?
When you're considering covering windows or doors, we know you don't want to lose out on the view. That's why we have lots of ideas to help you get the solutions you need while enhancing what you love. At Integrated Windows, our team will be happy to sit down with you to chat about what's important in your home and what needs to be helped. Get started today with a FREE in-home consultation.