Duette® Vertiglide™
Vertical Honeycomb Shades
In search of window coverings for your sliding doors or large windows? The honeycomb shape of cellular shades protects your interiors from harsh light and exhausting temperatures. It's the design of Duette honeycomb shades, but these shades slide side-to-side!
Match the sliding door movement
Great coverings for large windows
Shades insulate windows & doors
Ability to stack right, left or center
There's a wide range in weather around the year here in the Omaha area. It's important that window coverings add efficiency to your home, no matter what season it is. Sliding doors and large windows can be enormous glass openings. The rooms in your home with these large windows are at the mercy of the weather. Duette Vertiglide offers incredible energy efficiency, designed especially to insulate, while sliding sideways to open and close. The fabrics stack as they open, tailored to fit the best position for your home. The heat of summer and the drafts of winter are no match for these vertical honeycomb shades.
Energy Efficiency
Large windows and sliding doors are a big influence on the temperature of your home. But, with cellular shades that cover when you need it most, it's like having insulation at the window. Protect the comfort of your home, while enjoying the elements–at your convenience.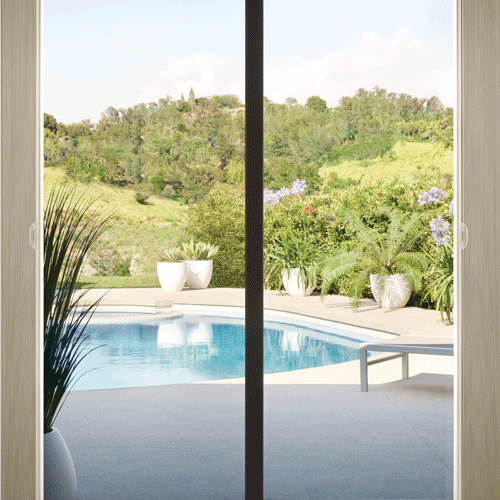 Adjustments
These vertical shades adjust open similar to your sliding doors. They are designed to stack in the position that fits your home's layout the best, whether that's to the right, left or center. The cordless design of these shades allow manual control, or get the ultimate control with smart shades.
Style Options
From the designer fabrics of the Alustra collection, to popular features, like LightLock and ClearView, you'll customize the style of your home and enhance the atmosphere as well. Beautiful textures and contemporary color schemes will add incredible design for your windows and doors.
Love what you see? Let's get started!
Drop us a line using the form below and one of our style experts will be in touch shortly to schedule your FREE consultation.