Stunning views, amazing natural light…the biggest windows of your home boast tremendous benefits. That is, until the direct rays, hot temps and relentless glare take over. Whether your windows are tall, wide or complete floor to ceiling, you need large window covering ideas! Let us help you discover the best ways to style your home for beautiful views, incredible lighting AND a comfortable atmosphere.  
*Window sizing details vary due to specific window features and fabrics. 
Sunshine + Heat
Any windows that face the sun can bring too much light and heat into your home. When windows are wide, tall or cover the expanse of an exterior wall, it can feel out of control. Honeycomb shades have a reputation for maintaining comfortable temperatures, due to the cellular structure–adding insulation right at the window.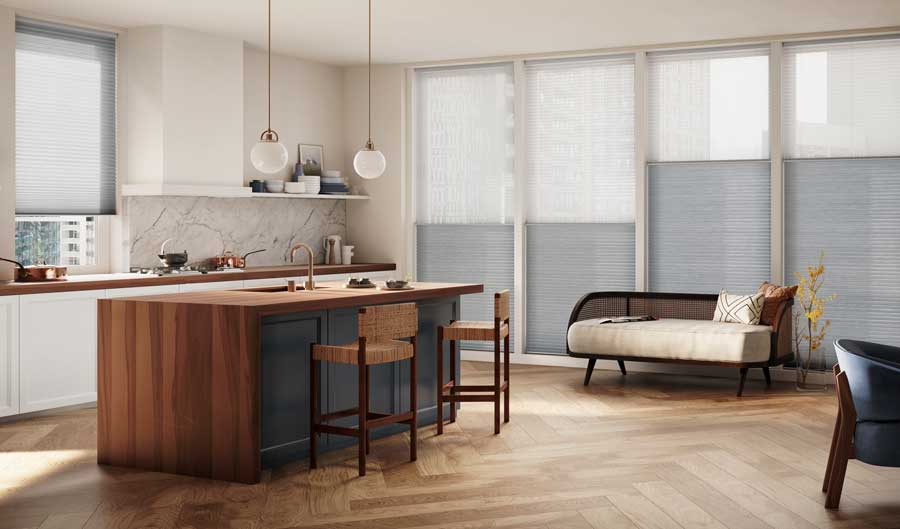 But, they also soften direct rays and glare with a range of fabric opacities, from light filtering (view-through!) to room darkening. With the dual shades feature, you can have both! For homes with large windows and sliders in the same space, honeycomb shades also come in a vertical orientation.
Horizontal Maximums: 14 foot width, 12 foot height
Vertical Maximums: 28 foot width, 10 foot height
Life…On Display
While you might love the view outside your biggest windows, the view into your home can make you feel uncomfortable. Privacy is important–in all of your spaces. There are a number of window coverings that will allow you to enjoy landscape views, but protect the privacy within your home.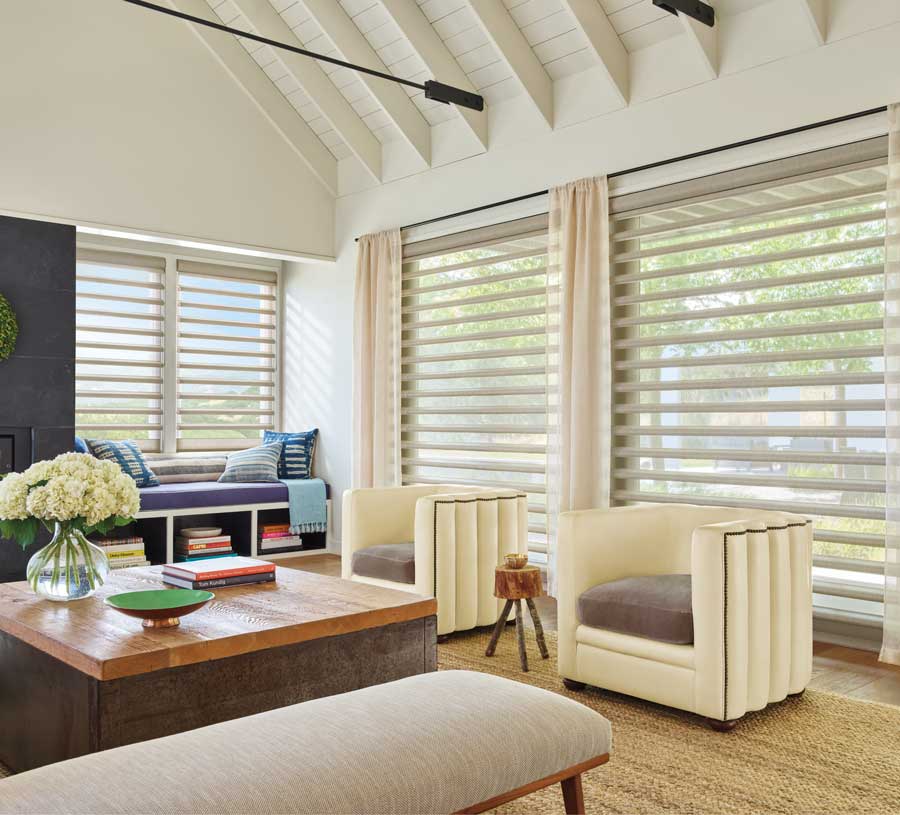 Our Pirouette Shades are a great solution when looking for ways to enjoy the view out, but block the view in. Completely closed, they appear to have the fabric folds of roman shades. But, those are vanes that fold in place, revealing a beautiful view through sheer fabrics which reflect outside during the day as a layer of privacy. The whole shade can roll up into the headrail, disappearing from view when you need it most. 
Horizontal Maximums: 12 foot width, 12 foot height 
Another favorite in sheer shades, our Silhouette shades offer floating vanes that tilt to increase light control and privacy, or stay suspended between sheer layers, appearing invisible to enhance the view of the landscape. A dual shades feature is available to create a wide range of light control, from soft lighting to room darkening.
Horizontal Maximums: 12 foot width, 11+ foot height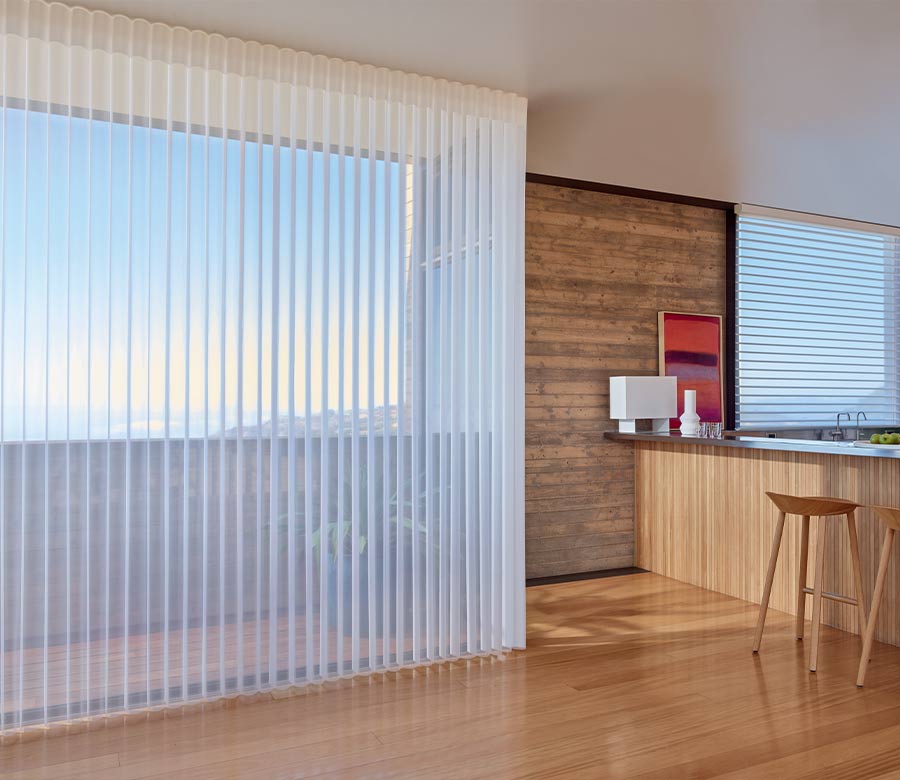 Sometimes, when you're searching for large window covering ideas, it's really more about the doors in your home. Sliders are a great way to bring in that amazing light and view of the landscape, but those benefits can quickly get out of control. Luminette Privacy Sheers are window treatments for sliding doors that move side-to-side, matching the movement of the doors. The solid vanes can rotate to either show off the stunning landscape through sheer fabrics, or close up for light control and privacy–even room darkening with specific fabrics. 
Vertical Maximums: 16 foot width, 10 foot height
Get Designer Style
Tall windows, wide windows, floor to ceiling…they all play a big part in achieving the style and atmosphere of your home. We love the way roman shades cascade down the window, adding dimension and character, adding color and texture to the space.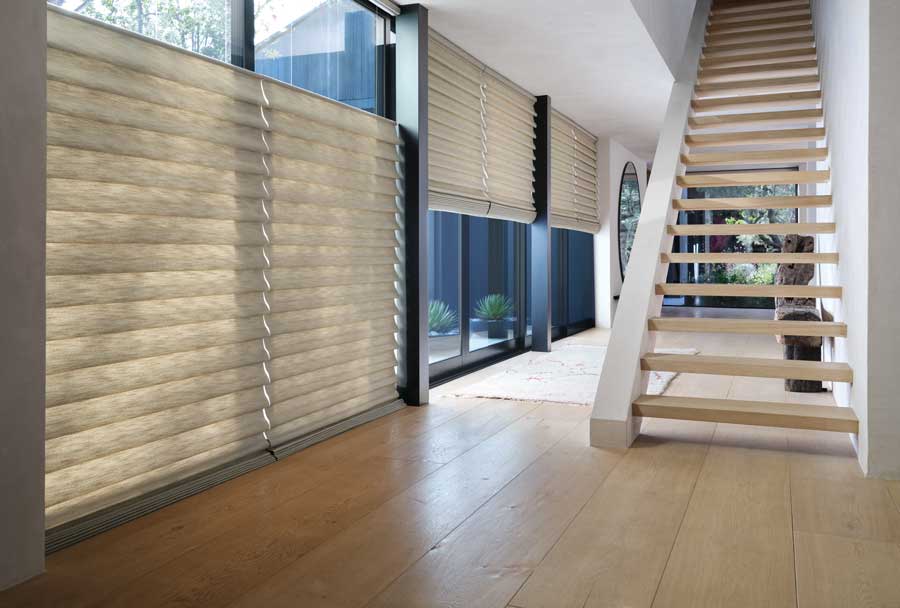 Vignette Modern Roman Shades are a dynamic way to bring privacy and light control to your windows. They offer popular features like top down function, smart shades and dual shades to help create the best atmosphere.
Horizontal Maximums: 11+ foot width, 12 foot height
If the idea of woven textures appeals to you, our Provenance Woven Woods collection is something to see. Natural fibers weave together, allowing light to filter, but keep privacy maintained. Contemporary colors enrich the materials for beautiful design. Favorite features, such as top down bottom up, dual shades and smart home tech tailor the atmosphere.
Horizontal Maximums: 12 foot width, 16 foot height
Vertical Maximums: 9 foot width, 9+ foot height
Sleek Design
As you consider large window covering ideas, it might occur to you that these large areas need low profile coverings. It's true that wide, tall and floor to ceiling windows can overwhelm the space if the window treatments seem unnecessarily bulky. This can become more of an issue when windows require an outside mount. For many homeowners, the sleek profile of roller shades is the perfect solution for these areas.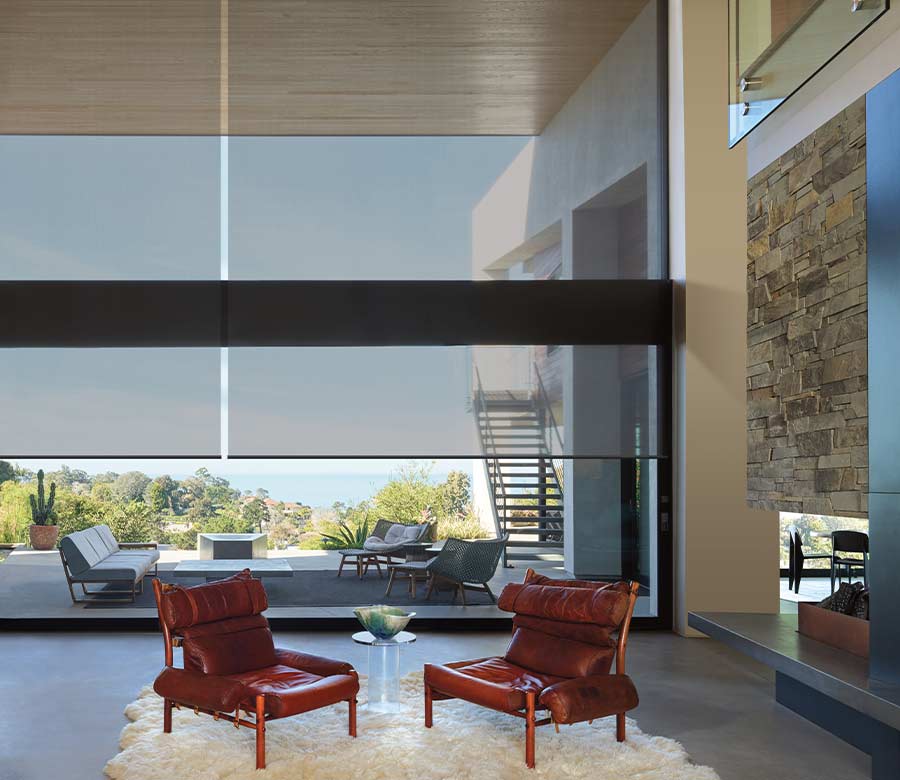 Solar shades are an ideal way to cover large windows, protecting your interiors from harsh UV rays and glare, while showing off the view and creating a comfortable atmosphere. Dual roller shades can increase the range of light control and privacy, while smart shades will improve the experience of adjusting them.
Horizontal Maximums: 16 foot width, 12 foot height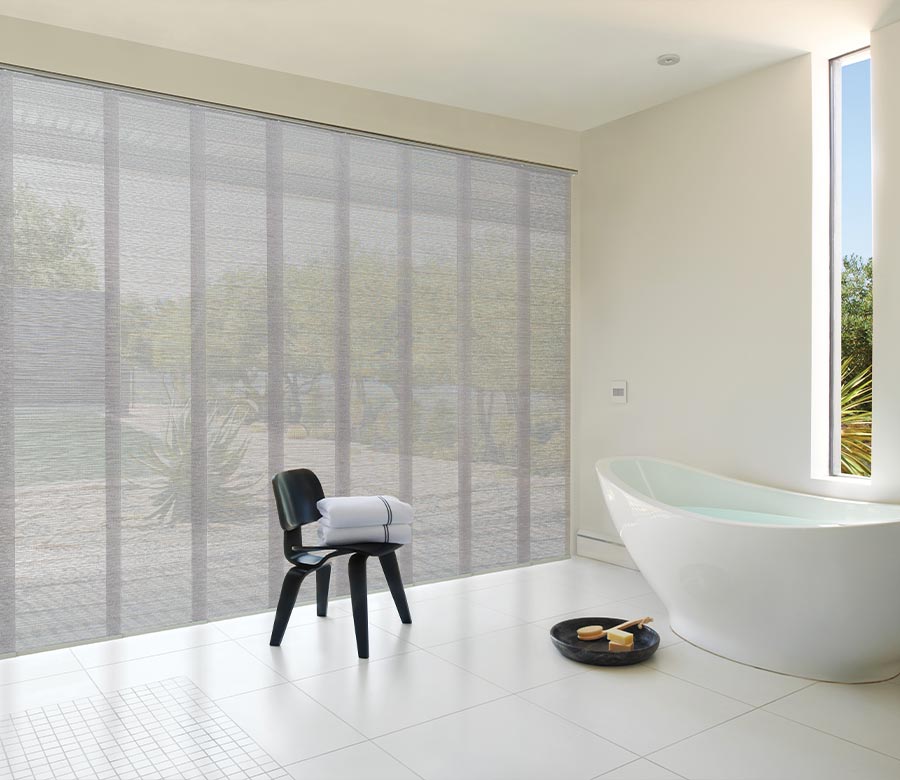 With similar styling possibilities, Skyline Gliding Window Panels offer a vertical covering for doors and large windows. These pair beautifully with roller shades in the same area of the home for coordinated design.
Vertical Maximums: 32 foot width, 14 foot height
Need Specific Large Window Covering Ideas?
Our team would love to help. The pros at Integrated Windows know the best window treatments for tall windows, wide windows, sliders and floor to ceiling! Schedule your free, in-home consultation to discover the best large window covering ideas for your own home. Get in touch with us today.