Do you love the refreshing vibe of minimalist design? In an age where many of us feel like we have "too much stuff," minimalism has sparked a movement to pare down our belongings–including home decor. Recently, Houzz experts weighed in on their newest book recommendation with tips to achieve minimalism in homes. But today, we're talking about window coverings and their role in this design statement…
Say Goodbye to Cords
For years, the dangling, loose cords of window coverings posed serious dangers to children and pets. Due to that, many homeowners would tie up the cords in a tangled knot and toss them to the top of the blinds–rendering them somewhat useless. Today's cordless features keep you from having to do that–or to worry about the risks. An unplanned benefit to cordless shades is how easy they are to function and how clean the look becomes.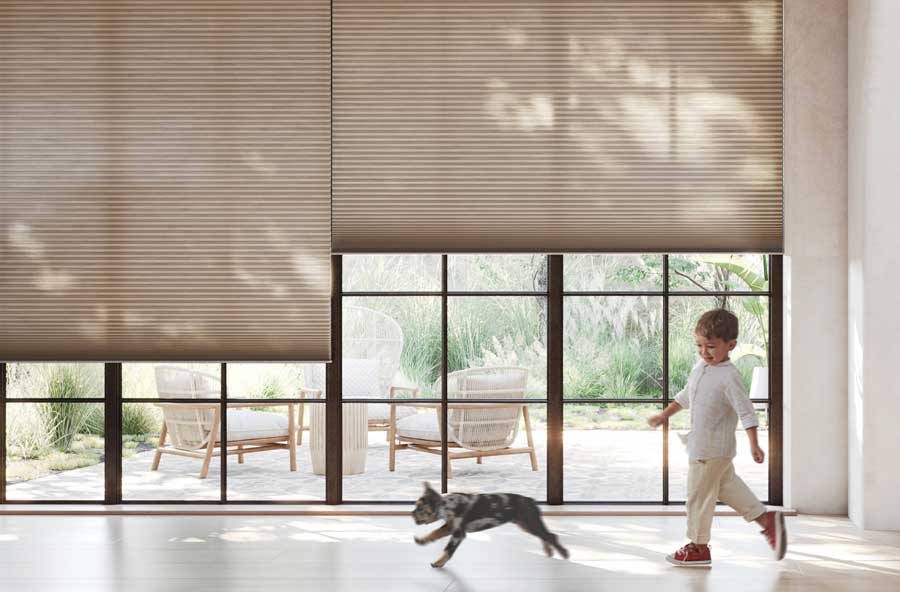 Bring on the Blends
With the rise of minimalist design, it might conjure the image of an empty home. In a magazine, that works for the photo shoot. But what about real life? Empty homes and bare windows just don't work. To achieve the look, while creating comfort, think about blending design elements. Walls and window coverings in similar colors with appear as one, for a seamless backdrop in your home.
Roll Them Up!
When it comes to window treatments, they are either covering your windows, or they are "out of the way." For some coverings, that means stacking fabrics to the side or at the top of the window. Depending on your preference, you might want them completely out of the way to achieve that minimal look. That's where the rolling operation comes in.
The popularity of roller shades has extended to additional window shades that now have the rolling function, where once you could only stack. Window treatments, such as cellular shades, roman shades and wovens, now have the ability to roll up and out of the way.
Smart Adjustments
Feeling overwhelmed from all of your daily expectations? Many homeowners are turning to smart devices to reduce the overload, similar to the reason many people love minimalism–less to do, less to take care of. Smart shades can adjust themselves based on interior temperatures or timing. Voice control can put them into position in an instant; saved favorites make life easier.
Love the Low Profile?
Today's window treatments have slimmed down the look at the window. Rolling up and into the headrail, this is minimalist design at its finest. For a modern look, choose a headrail with a squared off shape. 
Get the Look: Minimalist Design
At Integrated Windows, we would love to help you discover the best window treatments for your Omaha area home. If it's minimal style you're after, maximal design that sets your home apart–or anywhere in between, we are sure to have window treatments you'll love! Get in touch with our team for your free consultation.