Beautiful, stunning, gorgeous…all three words used to describe those large windows in your home. Except, that might not be the only three words you'd use. Do the words frustrating, annoying and uncomfortable sound familiar? If you don't have the right window coverings on your largest windows–or maybe none at all, you are probably suffering from too much light, uncomfortable temperatures and the feeling that someone is watching you. Let's take a look at the most common issues and ideas for window treatments for large windows…
Prying Eyes
Even if you live out in the middle of nowhere, it can make the hair stand up on the back of your neck if you get the feeling that someone can see into your home. It might not be such a big deal during the day, but at night? The windows of your home offer a perfect view into your well-lit rooms where you're just trying to enjoy time with your family. Love the light entering, but not so much the view? You should see what top down shades can do.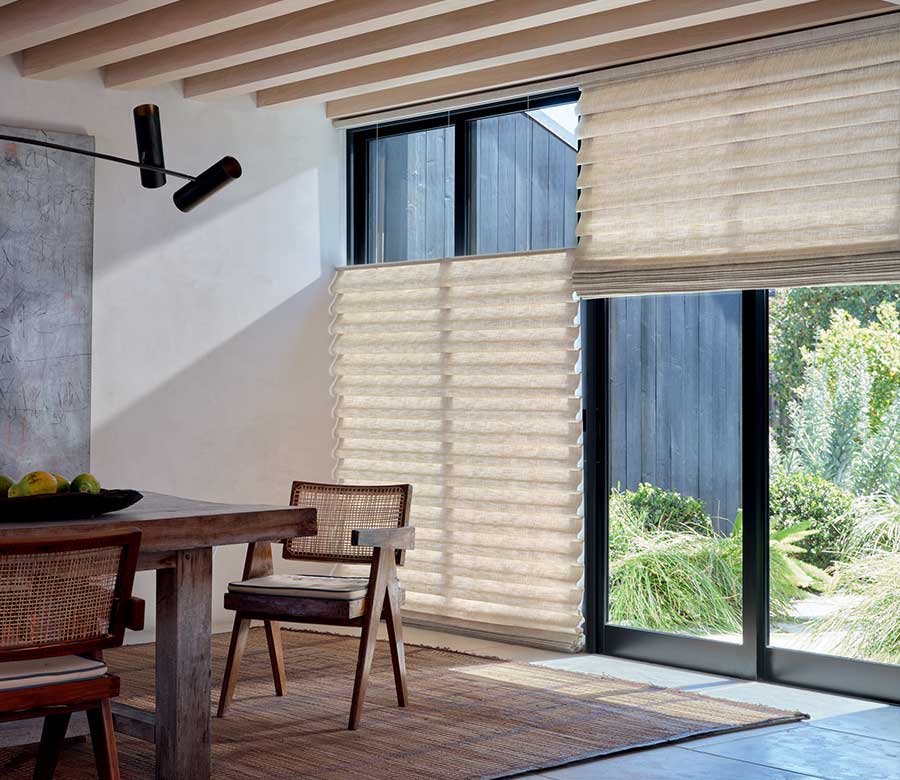 An Open Floor Plan: What to Do?
The open floor plan home is wildly popular, as it offers the chance for your family to be together without having to feel like you're tripping over one another. Those large windows in open floor plan homes contribute to a light, airy, roomy vibe. But, what do you do to achieve a cohesive look from room-to-room, along with covering doors? We like to recommend fabrics that coordinate with one another, so the homeowner can choose the particular shade and operation that makes the most sense in a specific spot. That way, the style will look amazing, and the shades will adjust easily to match the needs of the space.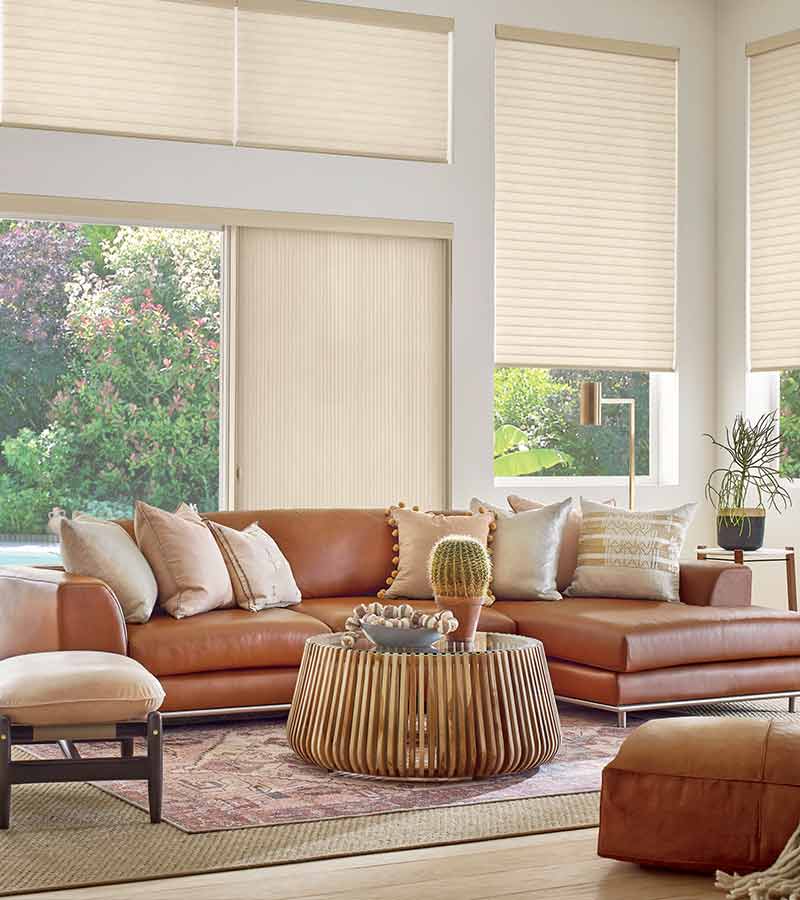 To Cover, Or Not to Cover
It's common for clients to wonder what's appropriate to cover when considering those large windows. And, the truth is, it really is custom to your home. For some homeowners, it depends upon which direction the windows face. Windows that get intense light all day, you probably want protection from the sun when necessary. For others, you might only cover a portion. This is popular when talking about large windows with arches, angles & transoms. It's perfectly normal to cover the entire window–or, leave the specialty shape bare.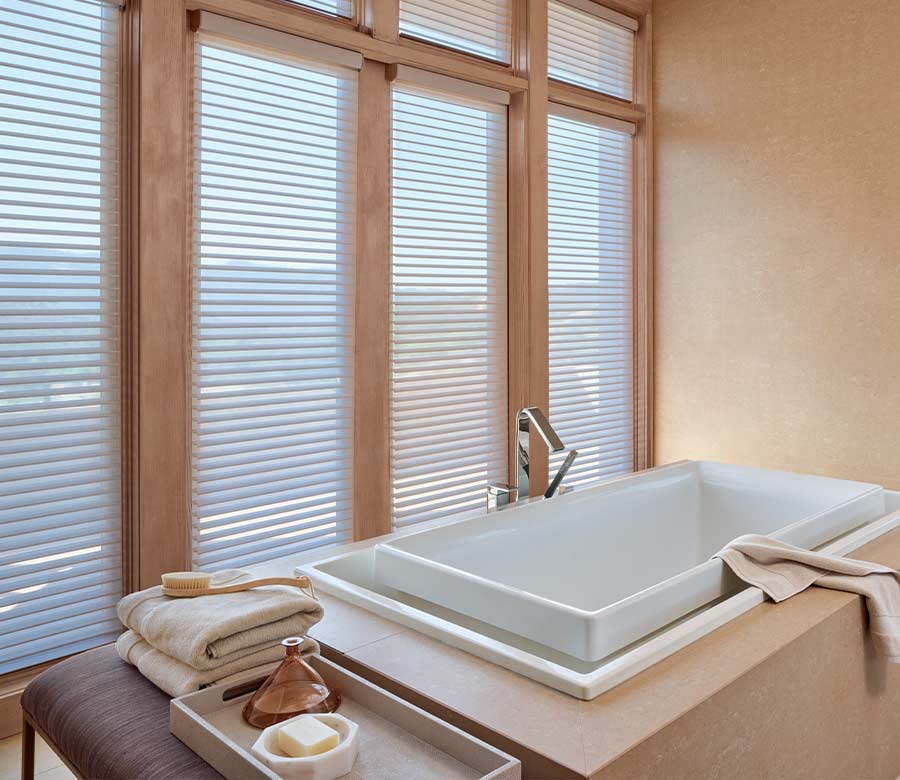 Enjoy the View
One of the best things about large windows is the view just beyond the glass. It makes sense that you might hesitate to cover that stunning view, but let's explain how window coverings will enhance it! With the right window coverings, you can see through sheer fabrics to take in the view, while enjoying natural light that has been softened. The glare is reduced, you get a layer of UV protection, and levels of privacy are yours. There are also options for dual shades, where you can see through sheer fabrics when you want, but drop a blackout roller shade into place when darkness is necessary.​​
Make Adjustments Easy
Another obstacle that might keep you from choosing window treatments for large windows is how to make adjustments. No one wants obnoxious, dangling cords hanging down from the top of a huge window–and guess what? That's not even an option anymore. With today's regulations on window covering cords being dangerous, the industry has designed much safer–and uncluttered looking–cordless and cord-safe options. Plus, with the latest innovations in motorized blinds and shades, adjusting those large coverings is as simple as the touch of a button, or a voice command to Alexa.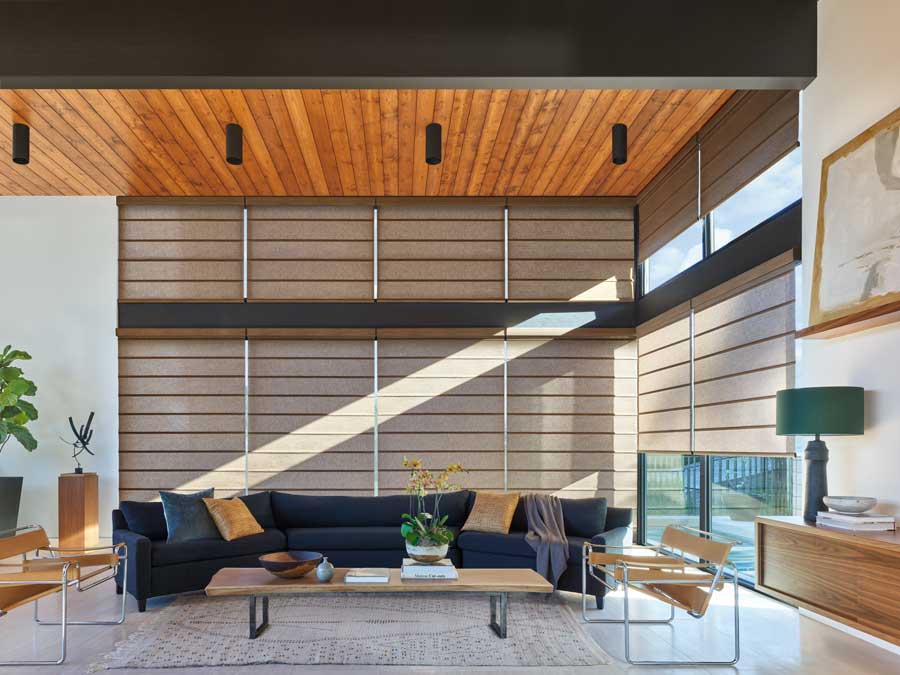 You Can Love Those Large Windows Again–We Promise!
We know you love those large windows, and it's time for you to enjoy all the wonderful things about them, and get solutions for the things that bug you the most. No matter which room they're in, we've got features to improve the atmosphere, like room darkening, energy efficiency and a wide range of light control. Our team, at Integrated Windows will help guide you to the style & function you need to make your home complete. Get in touch with us for your FREE consultation.