All the way from New York Fashion Week comes the inspiration we've all been waiting for, the Pantone Color Institute's top ten palette for 2024. Join us as we reveal this unique collection of colors featuring vibrant hues, a top 5 classic palette and some essential neutrals. The latest color trends will soon find their way into home decor from coast to coast. Let's get started…
Up & Coming Colors
It's exciting to see what the future holds through the eyes of fashion designers and home stylist. There's a certain vibe that comes along with any new trend, especially each year's palette. This year, a cultural movement is being represented in full color. A movement that's full of optimism, freedom and liveliness. And, who doesn't want to be part of THAT.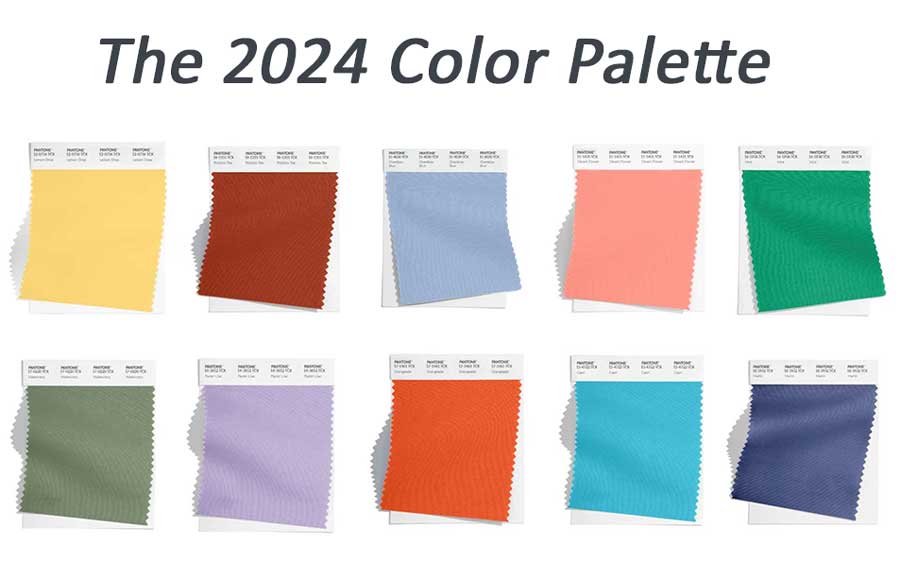 Lemon Drop, Rooibos Tea, Chambray Blue, Desert Flower, Mint, Watercress, Lilac Pastel, Orangeade, Capri & Marlin
While vibrant colors make it easy to express yourself, the peacefulness of neutrals communicates a message just the same. 
Brush, Quiet Shade, Mushroom, Brilliant White & Northern Droplet
Many people feel compelled to choose between their love of grays and the warmth of browns. The latest color trends allow us to change our way of thinking. Grays and browns are no longer mutually exclusive, they can live under the same roof harmoniously. New palette, new rules.
Let's Introduce Color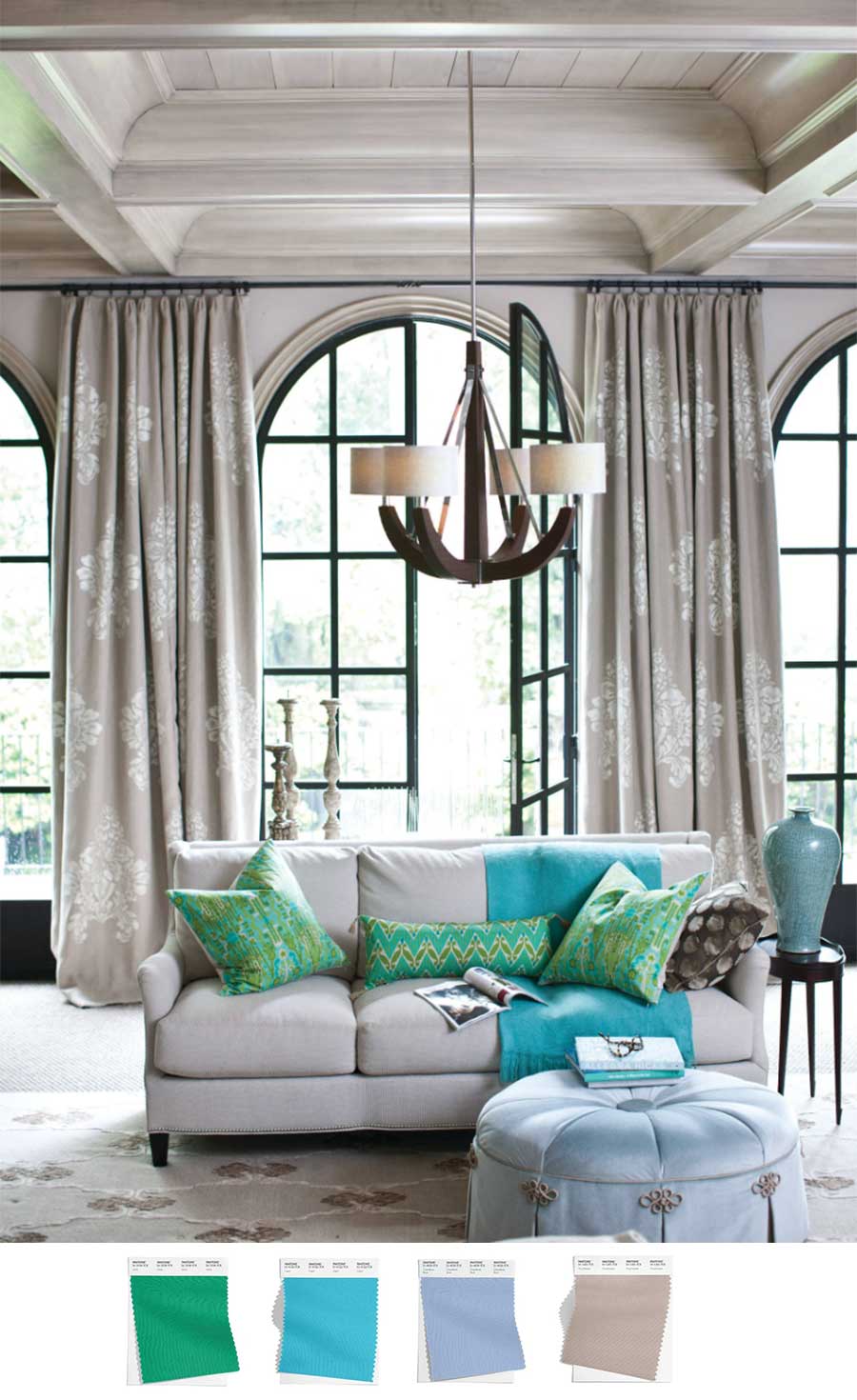 Mint, Capri, Chambray Blue & Mushroom
Are you sourrounded by a nuetral palette? It's ok, many of us are. If it's beginng to feel a bit "tired", add some color or a fun pattern to liven up the space. Accent pillows, blankets, vases and art work can help bring a bit of personality into your space. If you decide you like it, makeover your decor more permanently. 
Pair Standout Colors
We all have favorite color combos, black & white, pink & gray… and in this office space, it's blue & orange that catches the eye. Pairing colors begins with choosing what appeals to YOU, and sometimes, opposites attract. It's important to note that when pairing colors together, one shade acts as an accent color, while the other takes on the majority of the space. This is what creates the complete look.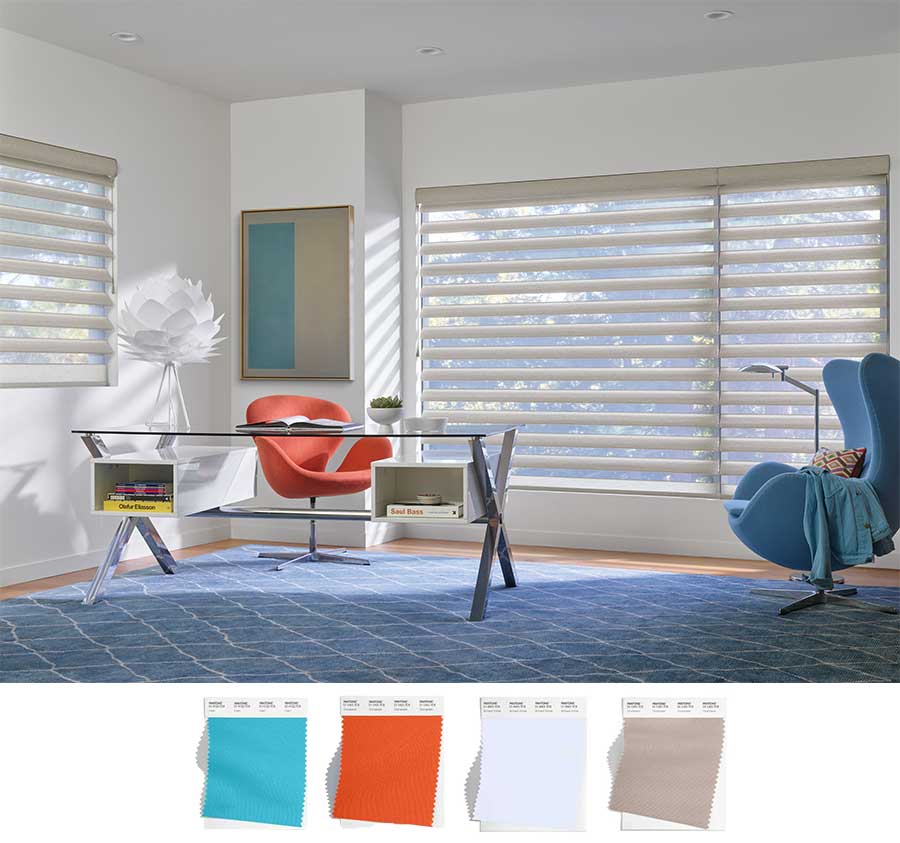 Capri, Orangeade, Brilliant White & Mushroom
Speaking of the latest color trends, at Integrated Windows we feel it's our obligation to bring window treatments into this colorful discussion. Warm, beige colored Pirouette Shades are an excellent choice for the backdrop of this design. With a neutral foundation of soft white walls and light wood flooring, warming up the space with beige treatments was intentional. But remember, cool gray could work here too, it comes down to personal preference.
Create a Serene Atmosphere
When you're looking for peace and quiet, creating a calm atmosphere is easy if you play by the "color rules". By putting shades together that are close to one another on the color wheel, you can achieve a serene atmosphere. Blue and green create harmony in this dining room space. They enable a soft pairing with no tension. The coolness of the ceiling color, area rug and drapes work with the warmth of the brown-toned furnishings and flooring. The results are incredible. 
Marlin, Northern Droplet & Watercress
Add a "Wow" Accent
The top ten colors just released all have "Wow" factor potential. The latest color trends encourage us to be ourselves, especially at home. This kitchen says it all, fill your life with self-expression and color. Here, the client experimented with their favorite shades of lilac and capri. The result is amazing… and the way the colors play off the light wood floors and walls…Perfection.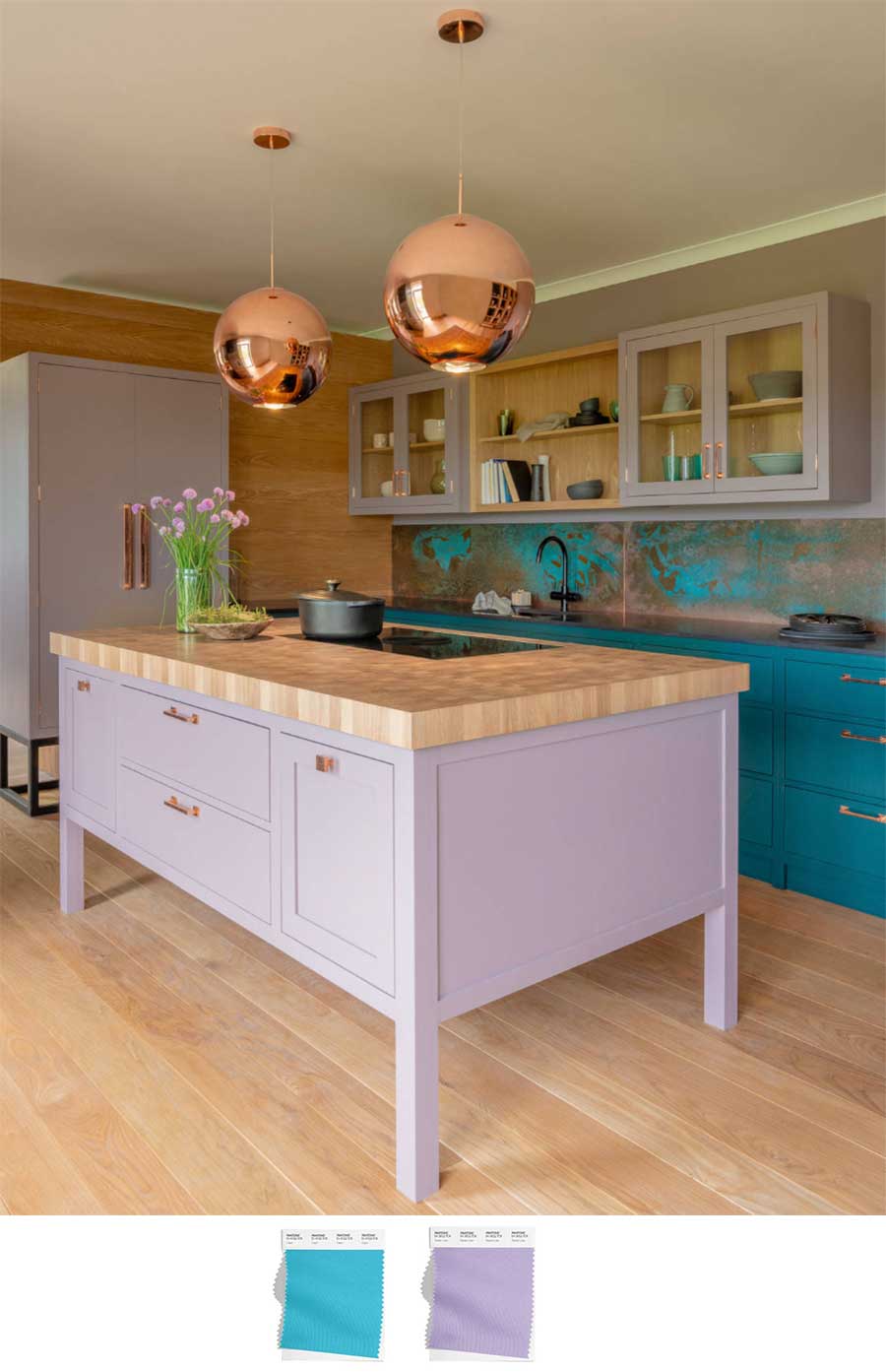 Capri & Pastel Lilac
Make It Your Own
What brings you happiness? The latest color trends offer a variety of colors to create your own sanctuary. Bring in a favorite shade that expresses who you are, express yourself. Design a home that appeals to you as an individual.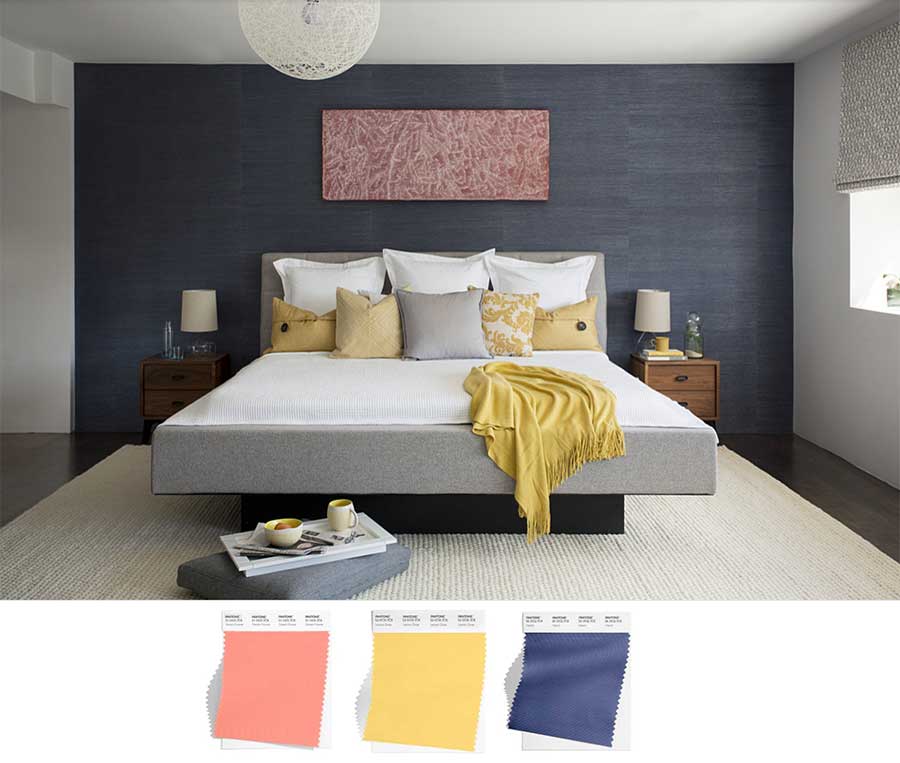 Desert Flower, Lemon Drop & Marlin
Finding Inspiration with New Color
Allow the latest color trends to launch you in a new direction, one of self-awareness and expression. The Pantone Institute is famous for taking a cultural movement and expressing it in color. Why not invite color texture and a fresh perspective into your home with window coverings. Our experts are here to support you on your journey. Stop into out showroom to view our incredible ensemble of products and be inspired by what your home could be. Get in touch with us and make a FREE in-home consultation and we can review your space together.